BSGS is developed on the basis of GC/R design of large flow rate, gas supply system, with the OMRON PLC as the main body, PROFACE touch screen for operating interface, in view of the different nature of the gas with different disk design, the large flow of dangerous gases can be uninterrupted supply. All products have passed the SEMI-S2 safety certification and CE certification of electronic products.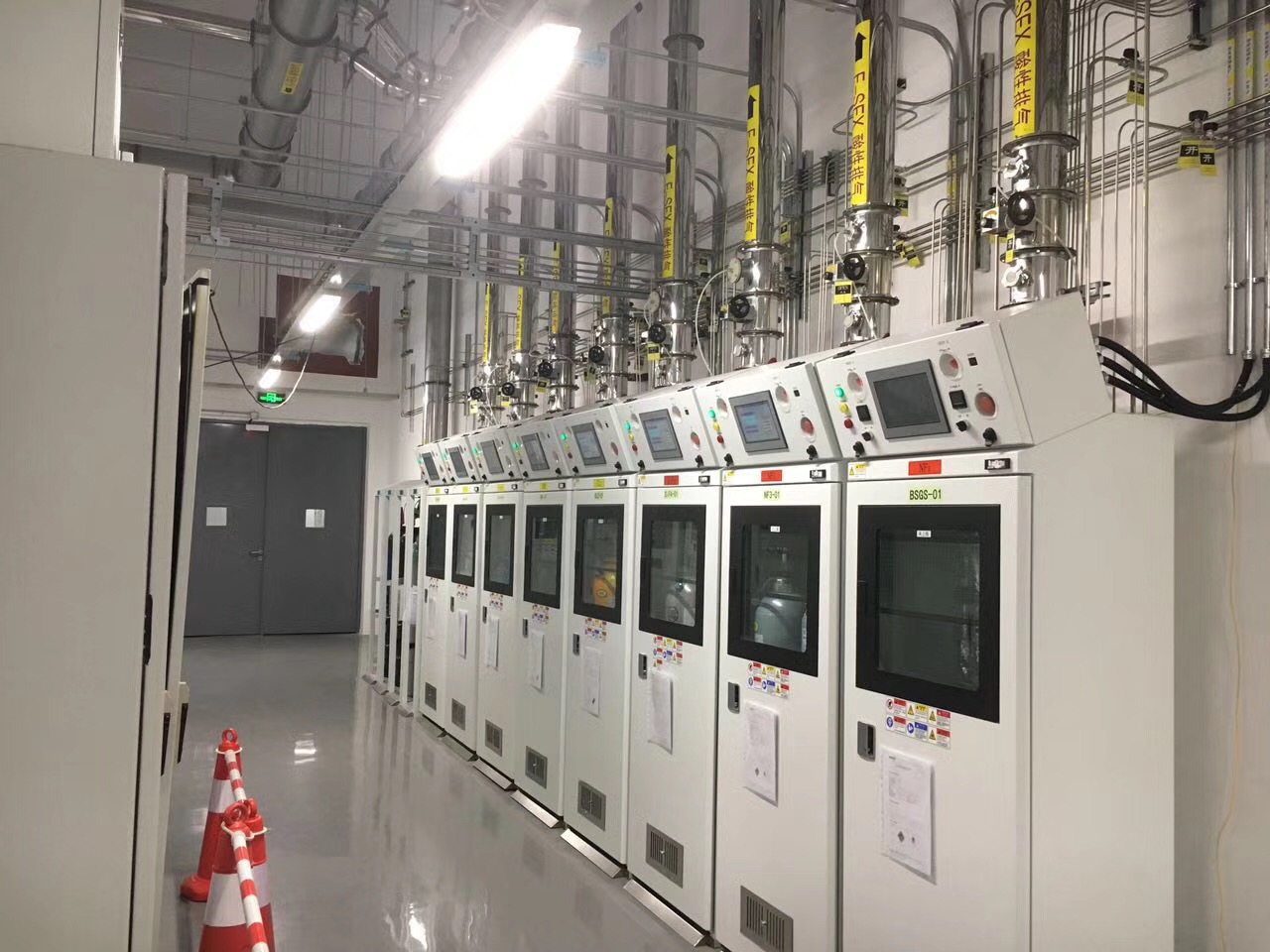 Basic functions:
1. Set level 5 password permissions.
2. Automatic purge and automatic switching.
3. Manually purge and operate the valve.
4. Operation and alarm history.
5. Setting of gas supply and alarm parameters.
6. Output of equipment operation status.
7. Emergency cut-off switch EMO.
8. High temperature automatic sprinkler system.
9. Cylinder purge valve box.
Optional features:
1. UV/IR SENSOR (flammable gas)
2. Scale (liquid gas)
3. Vavle Shutter (dangerous gas)
4. Auto Guard
5. Cylinder heating jacket (low pressure gas)
6. Heating (low pressure gas)
7. Secondary regulation (high pressure gas)
8. Exaust Alarm (all gases)
9. Z-purge Alarm (all gases)
10. Ethernet remote communication (all gases)
11. HEATING BLOCK
Ancillary facilities:
1. Appearance 750(W) X 550(D) X 2,300(H)
2. Power supply 220VAC 3A.
3. Gas supply pipeline 316L EP 1/4 VCR.
4. Purge line 316L EP 1/4 VCR 100PSI PN2(999.99%)
5. Pressure protection pipeline 316L EP 1/4 VCR 1000PSI PN2(999.99%.
6. Vacuum tube road 316 EP 1/4 VCR 100PSI 50SLPM GN2.
7. Drain line 316 BA 1/2 VCR.
8. Pneumatic gas source 316 BA 1/4 LOK 60-90 psi GN2&CDA.
9. Fire water supply 1/2 NPT 30-40 psi.
10. Exhaust 6' wind pressure 200Pa.